By Kathryn Snowdon
BBC News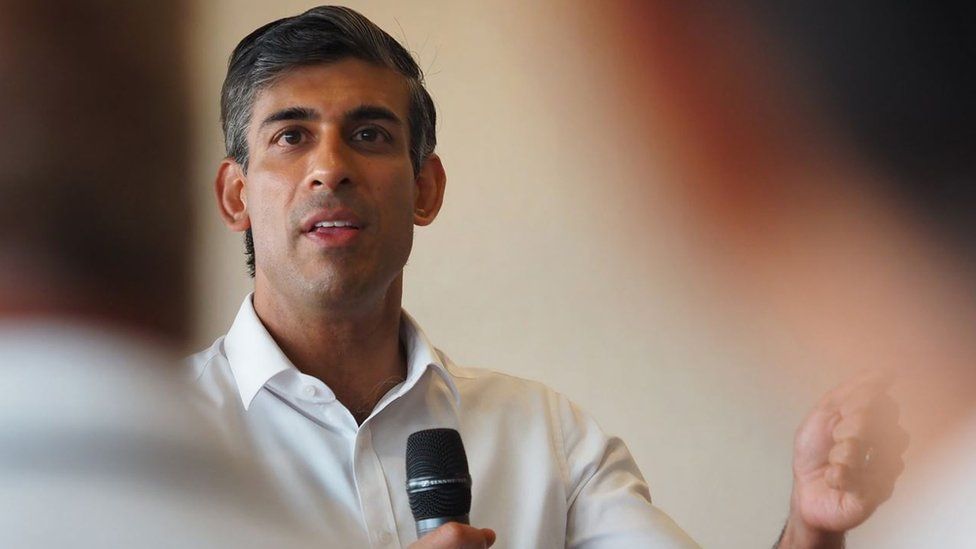 Rishi Sunak has said he will cut the basic rate of income tax from 20% to 16% by the end of the next parliament if he becomes prime minister.
This would amount to a 20% tax reduction, he said – the "largest cut to income tax in 30 years".
But supporters of his Tory rival Liz Truss have accused the ex-chancellor of flip-flopping on the issue and said that people cannot wait for tax cuts.
Conservative Party members will start receiving ballot papers later.
The winner of the leadership contest will be announced on 5 September.
Mr Sunak said the policy is part of his "radical" tax vision, but it builds on his previously-announced 1p cut to income tax in April 2024.
He said he will take a further 3p off by the end of the next parliament, which could be as late as December 2029.
Supporters of Ms Truss said she would "cut taxes in seven weeks, not seven years".
'Self-sabotage'
In announcing his latest tax policy, Mr Sunak emphasised the need to control inflation before cutting taxes.
"Firstly I will never get taxes down in a way that just puts inflation up. Secondly I will never make promises I can't pay for. And thirdly I will always be honest about the challenges we face," Mr Sunak said.
"Because winning this leadership contest without levelling with people about what lies ahead would not only be dishonest, it would be an act of self-sabotage that condemns our party to defeat at the next general election and consigns us to a long period in opposition."
Taxes have dominated the Tory leadership race, with the candidates clashing during the debates.
Mr Sunak told the foreign secretary that her tax cut plan would "tip millions of people into misery" and cost the Conservatives the next election.
Chief Secretary to the Treasury Simon Clarke, who worked closely with Mr Sunak but is now backing Ms Truss, said: "We cannot afford to wait to help families, they need support now. Liz will cut taxes in seven weeks, not seven years."
A source in Truss' camp said: "It's welcome that Rishi has performed another U-turn on cutting tax, it's only a shame he didn't do this as chancellor when he repeatedly raised taxes.
"He has also made it conditional on getting growth first – knowing full well that his corporation tax rises are contractionary.
"The public and Conservative Party members can see through these flip flops and U-turns."
As ballot papers start dropping through the letterboxes of Conservative members, it's widely accepted that Liz Truss is ahead.
She had some significant, high-profile endorsements at the weekend to add to her sense of momentum.
But Rishi Sunak's team are adamant they are still in the race. Tory MPs I've spoken to in recent days highlight that many members are still making their minds up.
Mr Sunak has been on the back foot when it comes to tax policy. His pitch for caution has been too pessimistic, his critics say.
He will be hoping that his pledge today will do something to address that.
He wants to be seen as an instinctive low tax Tory – who will reduce them when it's safe to do so.
But he is facing criticism from some who think he is changing plans to reflect the debate.
He was criticised last week for announcing cuts to VAT on fuel – which he didn't introduce when he was chancellor.
Sources close to Liz Truss accuse him of "flip-flopping" again today on tax.
More MPs have revealed who they are supporting in the leadership contest.
Chancellor Nadhim Zahawi, who replaced Mr Sunak in No 11 when the leadership hopeful resigned from Boris Johnson's cabinet last month, is backing Ms Truss.
Mr Zahawi – who put himself forward for the top job before crashing out at an early stage – said "we need a 'booster' attitude to the economy, not a 'doomster' one".
"We are in a national economic emergency, and we need more than words. We need delivery, and Liz will be the delivery prime minister," Mr Zahawi wrote in the Daily Telegraph.
Meanwhile, Damian Green, chair of the One Nation Conservatives group of Tory MPs, told BBC Radio 4's Westminster Hour that he is supporting Mr Sunak.
"Rishi can actually conjure up a solution which makes a real difference to the lives of millions of people and that's what I think we need in the next prime minister," Mr Green said.