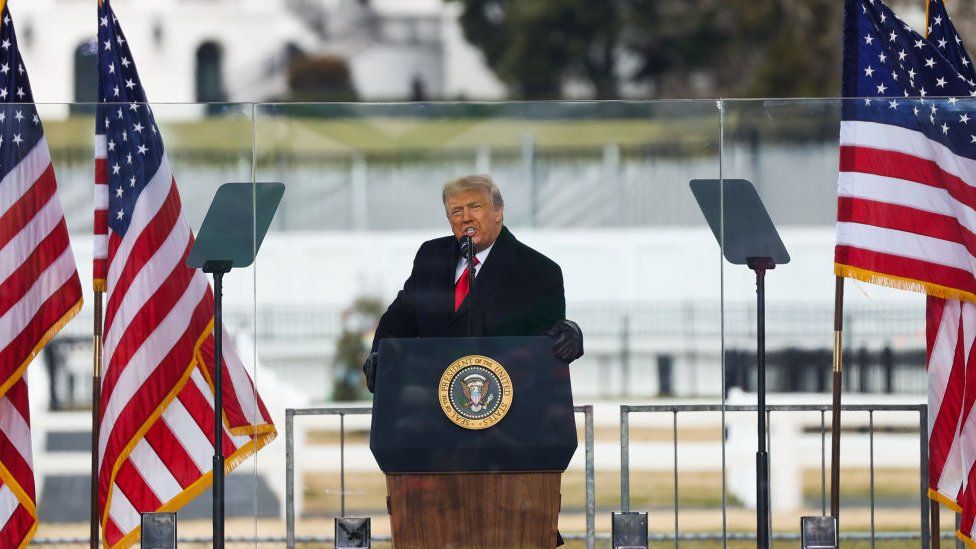 The US justice department is examining Donald Trump's actions over attempts to overturn the 2020 presidential election results, US media report.
They say federal prosecutors have asked witnesses directly about the behaviour of the former US president.
So far, they have not opened a criminal investigation into Mr Trump himself.
Rioters stormed the US Capitol in Washington DC on 6 January 2021 in an effort to overturn the president's election defeat by Joe Biden.
No former US president has ever been indicted for criminal conduct.
On 6 January 2021, Mr Trump sent mixed signals to those who attacked the building, at some point praising them – but also urging them to stay peaceful and support law enforcement agencies.
The Department of Justice already has a criminal investigation into what happened on that day.
The reports in the media that witnesses are being questioned about Mr Trump's role do not mean that federal prosecutors will decide to pursue criminal charges against him.
The investigation is separate from the high-profile, televised Congressional hearings that have taken place over the past few weeks on the same subject – which Mr Trump has characterised as a political witch-hunt.
CBS News says this was later confirmed to it by a US government official familiar with the investigation and a source with knowledge of what has been presented by the justice department to a grand jury.
The witnesses were reportedly asked about instructions given by Mr Trump in connection with attempts to prevent President Biden's election victory from being certified by Congress.
Some of those questioned included senior members of former Vice-President Mike Pence's staff, several US outlets report.
Until now, the justice department has refused to say whether or not it would bring charges against Mr Trump for any alleged role in trying to overturn his defeat in the 2020 presidential election.
When the department's top official, Attorney General Merrick Garland, was asked on Tuesday whether he was concerned about indicting a former president, he simply responded that he intended to hold "everyone" accountable.
Federal officials would prosecute anyone "criminally responsible for interfering with the peaceful transfer of power from one administration to another", Mr Garland told NBC News.
The justice department's investigation into what happened on 6 January, he said, was the "most wide-ranging investigation its history".
Any decision by federal prosecutors to bring charges against a former president – and potential candidate in the 2024 election – would have significant constitutional and political consequences.
In addition to federal prosecutors, a powerful US congressional committee has also been holding its own separate investigation into the storming of the Capitol building.
The congressional committee, made up of seven Democrats and two Republicans, called dozens of witnesses last week in an attempt to build a case that Mr Trump launched an illegal bid to overturn his defeat by Mr Biden in the 2020 presidential election, culminating in the riot.
Some of the most explosive testimony delivered at the televised hearings came from Cassidy Hutchinson, a former top aide to White House Chief of Staff Mark Meadows.
Appearing as a surprise witness during the sixth hearings, Ms Hutchinson said Mr Trump personally knew that members of the crowd at his morning rally near the White House were armed, because they were being turned away by Secret Service officers.
"I don't [expletive] care that they have weapons. They're not here to hurt me," Ms Hutchinson said she heard the president say. "Let my people in. They can march to the Capitol from here."
Her testimony offered the committee something they had been seeking to establish from the very beginning of proceedings – that Mr Trump allegedly knew there was a very real threat of violence and did nothing to stop it.
Its panel of members of Congress has suggested there might be enough evidence to bring criminal charges against Mr Trump, but it does not itself have the power to do that.
Any suggestion that the justice department could be looking into the former president's personal role is therefore significant.
You might also be interested in: